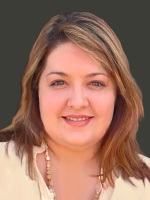 About Michelle Robles
Practice Areas: Certified Paralegal with an accounting background
College: Paralegal Certificate, Completion in December 2011, State College of Florida,
Bachelor's Degree in Accounting, 2001, Florida Metropolitan University, Bachelor's Degree in History, 2010, University of South Florida – Sarasota/Manatee, and Master's Degree in Accountancy, 2010, University of Phoenix
Past & Present Memberships/Associations: National Association of Professional Agents, Florida Breeders and Owners Association, since 2006, Sarasota Board of Realtors, since 2005, University of Phoenix Alumni Member, since 2009, University of South Florida Alumni Member, since 2010, University of South Florida Alumni Treasurer.
Biography:  Michelle has over 19 years experience in customer service and sales, 14 years experience in accounting and 11 years in the real estate industry.  Michelle is also bilingual and speaks fluent Spanish. Certified Paralegal with an accounting background.
Background: Michelle Robles was born in Puerto Rico and moved to Sugar Land, Texas in 1979.  Michelle's hobbies include playing tennis and breeding thoroughbred horses for racing. Most recently she, at the age of 35, is a Stage III Ovarian Cancer Survivor!  Michelle also finds time to help in the care of her grandmother who suffers from Alzheimer's. 

BACK TO ATTORNEY AND STAFF INDEX